Nursery- London
Summer 2
Welcome to Summer 2. Our theme for this term is Amazing Animals and Summer.
Sports day
The children participated in their first ever Sports Day. They did a fantastic job completing.
Week 3
Feed the shark some sounds! Check out the children's brilliant letter formation

Week 2- Science fair
We had a very exciting week in Nursery as it was Science Week! The children carried out lots of experiments and on Friday, we had parents/carers joining in. Check out the pictures below
Week 1
The children celebrated NSPCC Childhood day. The purpose of this day was to remind us how we can have fun with children and how to protect them. The day was spent playing different games and having fun in the sun!
Summer 1
Welcome back everyone to Summer Term 1! I hope you all had a lovely Easter and a restful break. Our theme for this term is 'Growing and Senses'.
Week 6
The children celebrated the Platinum Jubilee- what a lovely way to end the term! To get into the spirit, we held a competition to see who can make the fanciest crown. They all did a brilliant job! Congratulations to our winners, Muaadh, Sophia, Ayyub and Ammarah.
Please enjoy Nursery's performance of 'Happy Royal Jubilee' and the pictures from this weeks Jubilee activities
/i/video/jubileev_performance.mov
/i/video/IMG_2879.mov
Sense of the week- Sight
Royal Scavenger hunt

Week 5
To celebrate World Bee Day, the children made tasty Rice Krispes treats coated in honey. They showcased their measuring, mixing and turn taking skills whilst learning how honey is made.
Sense of the week- Touch
/i/video/Feeling_honey.mp4
Week 4
Sense of the week- Smell
"Mmm..it smells like candy".
"Flowers smell nice".
Growing cress
For our growing theme, the children planted cress seeds. They confidently stated that they needed to water it everyday to help it grow. Stay tuned to see the progress.

Week 2 and 3
Our core text for the next two weeks is 'The Very Hungry Caterpillar'. This is a brilliant book which explores the life cycle of a caterpillar. The children were amazed by the fact that caterpillars grow into beautiful butterflies. Check out the beautiful class displays they created. Great job!
Fruit kebabs
The Very Hungry Caterpillar ate lots of different fruit so the children made delicious fruit kebabs. This activity supported hand-eye coordination and self selection.
Sense of the week- Taste
/i/video/Blind_taste_.mp4
Life cycle of a butterfly
/i/video/caterpillar_Trim.mp4
/i/video/Caccoon.mov
/i/video/Butterfly.mov
Eid Mubarak

Week 1
Holiday News
The children were excited to draw pictures whilst sharing what they got up to during the holidays. Some were able to identify the sounds they could hear in their sentences. Amazing!

Sense of the week- Hearing
Guess the instrument
/i/video/FullSizeRender_3.mov
Core text- The enormous turnip
In groups, the children made different sized turnips to represent it's growing process. On the first day, the children covered the balloon with newspaper. The next day, the they painted the turnips purple by mixing blue and red paint. On the last day, they added leaves to complete the look. Fantastic team work


Spring 2
The theme for this term is 'Story and Rhyme'. The children will be focusing on a traditional tale each week and learning a rhyme. The tales we will be covering are pictured below.
Last week of term
Pyjama Day
To wrap up this term's theme and to celebrate the children's hard work, we had Pyjama day! The children came in wearing their jammies and were ready to have a blast. The day was filled with fun activities such as attending the school assembly, watching a movie, drinking hot chocolate and reading the class' favourite stories.
The children had lots of fun playing in the snow
/i/video/IMG_2348.mov
Easter song - Hot Cross Buns
/i/video/FullSizeRender_2.mov
Sound- Write
Our nursery students have really progressed during their Phonic sessions this term. They have learnt 12 sounds so far, and have started to segment sounds which is the first step to reading! They are also trying really hard with their letter formation. In the pictures below, you can see that they are building words from the sounds they are learning in class.
Well done Nursery, you're doing a brilliant job!
Story for week 5- Jack and the Beanstalk
The Giant's castle
Role play is an important part of child development, as it builds confidence, communication skills, creativity, physical development and problem solving. The children did a brilliant job working together as they added the finishing touches to this weeks role play area.
The children drew characters from the story while answering some questions. Can you answer the questions below?
What can the giant eat instead of Jack?
What does Jack need to say to the giant for stealing his possessions?
Happy Mother's Day
I drew these flowers
Using my fingers and thumb
So you'll have these memories
For all the years to come
Story for week 4- Little Red Riding Hood
Gifts for Grandma
The children felt really sad that Grandma gets eaten by the Big, Bad Wolf, so they decided to cheer her up. Check out the beautiful flowers and necklaces they made for her.
Mixing colours
The children were exploring what happens when you mix colours together. Do you know what white and red makes?
What's the time, Mr Wolf?
/i/video/tapestryjournal_com_cv_pages_s_46131_p_03-2022_o_6024_a01j37fqqchjj4b5yhbbjavpvc9c6ycv.mp4
Story for week 3- The Gingerbread Man
The nursery was filled with Gingerbread Man themed activities to enhance the children's skills in key areas. Check out the learning that took place below!
Can you spot the different materials used to make the Gingerbread Man?
Drawing buttons using numicons
The task was to count and trace the circles, identify the number on the number line and then form the number. The nursery students did a fantastic job!
Experiment
Why didn't the Gingerbread man swim in the river? The children investigated by dunking their biscuits in water.
Story for week 2 - The Three Little Pigs
The children had their hands busy as they investigated the different materials used by the 3 little pigs; straw, sticks and bricks. They were able to feel the difference which deepened their understanding as to why the wolf was able to blow down the first two houses but not the third. Later on the week, they had the task to protect the nursery from the big, bad wolf. Check out the brilliant obstacle course they built as a class. Fantastic teamwork.
Learning through songs
/i/video/FullSizeRender.mov
World book day
We celebrated the 25th anniversary of World Book Day- with the message for all children 'you are a reader'. The children came in dressed up as their favourite book characters- WOW! The school held 'The best dressed' award and also gave each child a book voucher to help promote reading for pleasure.



Rain, rain, you can stay
We are always ready for outdoor learning regardless of the weather. The children put on their wet suits and wellies and had fun sweeping the puddles, washing some dishes and mark making using watercolour paint.
Story for week 1- Goldilocks and the Three Bears
This week we read Goldilocks and the Three Bears. Check out the learning that took place during our first week back.
Invitations
The children invited Baby Bear to nursery as he had a tough time with naughty Goldilocks.
Face masks
To get into character for our role play sessions, the children made bear masks out of paper plates. How scary!
On the hunt
Goldilocks was in our forest school! Can you spot the items she took from the Three Bears' house?
Bear pancakes
To end the week, the children designed pancakes to look like bears. They used different fruit for each facial feature. Great work nursery!
Spring 1
Welcome back
Happy New Year and Welcome to Spring Term 1. Our theme for this term is 'Real life Superheroes'. Each week we will be learning about different people who help us.
Superhero of the week- Veterinarians
The children had a great week learning about animals and where to take them if they get sick. Check out their fantastic drawings of their favourite animals!
Valentine's Day
The children made lovely valentine cards to their loved ones.
Superhero of the week - Doctors
The children have been learning about heathy eating. They did a great job sorting out healthy and unhealthy food.
Chinese New Year (2022- Year of the tiger)
The children in nursery celebrated Chinese New Year by making paper lanterns, tiger toast and taking part in a parade!
/i/video/CNY_parade.mov
Superhero of the week- Firefighter
Fire safety
The children carried out fire safety checks around the school. They were able to spot lots of fire exit signs, fire alarms and fire extinguishers.
Literacy- Developing letter formation skills
Superhero of the week- Police Officers
The children in Nursery had a busy week investigating a kidnapping! Mr Teddy has gone missing from the classroom. Check out the crime scene below and see if you can spot any clues.
Our police officers look fantastic with their badges on.
New addition to Nursery
Nursery got talent
/i/video/Performance.mp4
Superhero of the week - Farmers
This week the children have been learning about Farmers. We discussed the significant role farmers play in growing our food. Check out the amazing prints the children created using their hands, fruit and vegetables.
Planting a seed
The children explored the resources needed to plant a seed and discussed how to maintain a plant. The children went around the circle and took turns putting soil into a cup, placing the seed in the centre and pouring water. The children displayed great patience and turn taking.
Numicons
This week in Numeracy the children were introduced to Numicons. For our introductory lesson, the children matched Numicon pieces on the number line based on colour and shape. Some students were asked to self-assess by counting the circles. Great start!
Outdoor investigation- Ice
The children had fun investigating ice. They picked up a piece and watched it melt in their hands. We discussed the features, how ice is formed and the different ways it can be melted.
Superhero of the week- Teachers
We focused on teachers for our first week back. The children took on teaching duties around the classroom such as taking the register and assisting with setting up the activities. They even did some teaching themselves. Fantastic start!

Autumn 2
End of term party
Nursery had a fantastic time celebrating their hard work and achievements with their friends. We did lots of singing, dancing and ate delicious food! The children also had a surprise visit from Santa as he heard that London Class had the best students! Well done children for all your hard work. From the nursery team- Merry Christmas and a Happy New Year!
Christmas tree cone
The children made their own Christmas tree cone-deserts. They carefully poured green icing over the cone and sprinkled colourful sprinkles on top. How tasty!
Christmas cards
To get into the holiday spirit, the children made beautiful Christmas cards to their loved ones using glitter and stamps. For the card inserts, the children either traced, copied or wrote their names independently.
Bird Feeders
The children in Nursery made bird feeders our of Cheerio's and pipe cleaners to attract some birds. They carefully placed it on tree branches. We haven't seen much in the playground due to the freezing weather. Hopefully we'll see soon.
Early Years Enterprise Fair
Well done to Nursery and Reception for their success in the Eco-Enterprise Fair. Each class was given a £20 budget to design, create and evaluate their own product. Nursery and Reception created festive toothbrush holders made from milk cartons. We contacted our local dentists and supermarkets and they kindly donated toothbrushes and toothpastes for all our pupils. Nursery and Reception made a profit of £165.18 – AMAZING! The school council will decide how this money will be spent on the school. Thank you to our parents/carers for your continued support.
EYFS Christmas Concert
All pupils across Nursery to Reception have worked tremendously hard to learn songs and actions for our 'Early Years Christmas Concert'. Here is a sneak view of some pictures from their performance – it was amazing! We can't wait for you all to watch the recorded video! Well done Nursery and Reception!
Christmas jumper day!
The children in nursery ended their week by wearing lovely Christmas jumpers. They all looked amazing while singing for their concert. Donations were also made by generous parents and carers. Thank you!
Oral hygiene
This week in nursery, the children have been learning all about oral hygiene. We discussed the importance of brushing our teeth twice a day and eating healthy food. The children participated in various activities to help facilitate their learning. A few examples are cleaning a giant tooth with a real toothbrush, role playing as dentist/patient and creating their own toothbrush holders.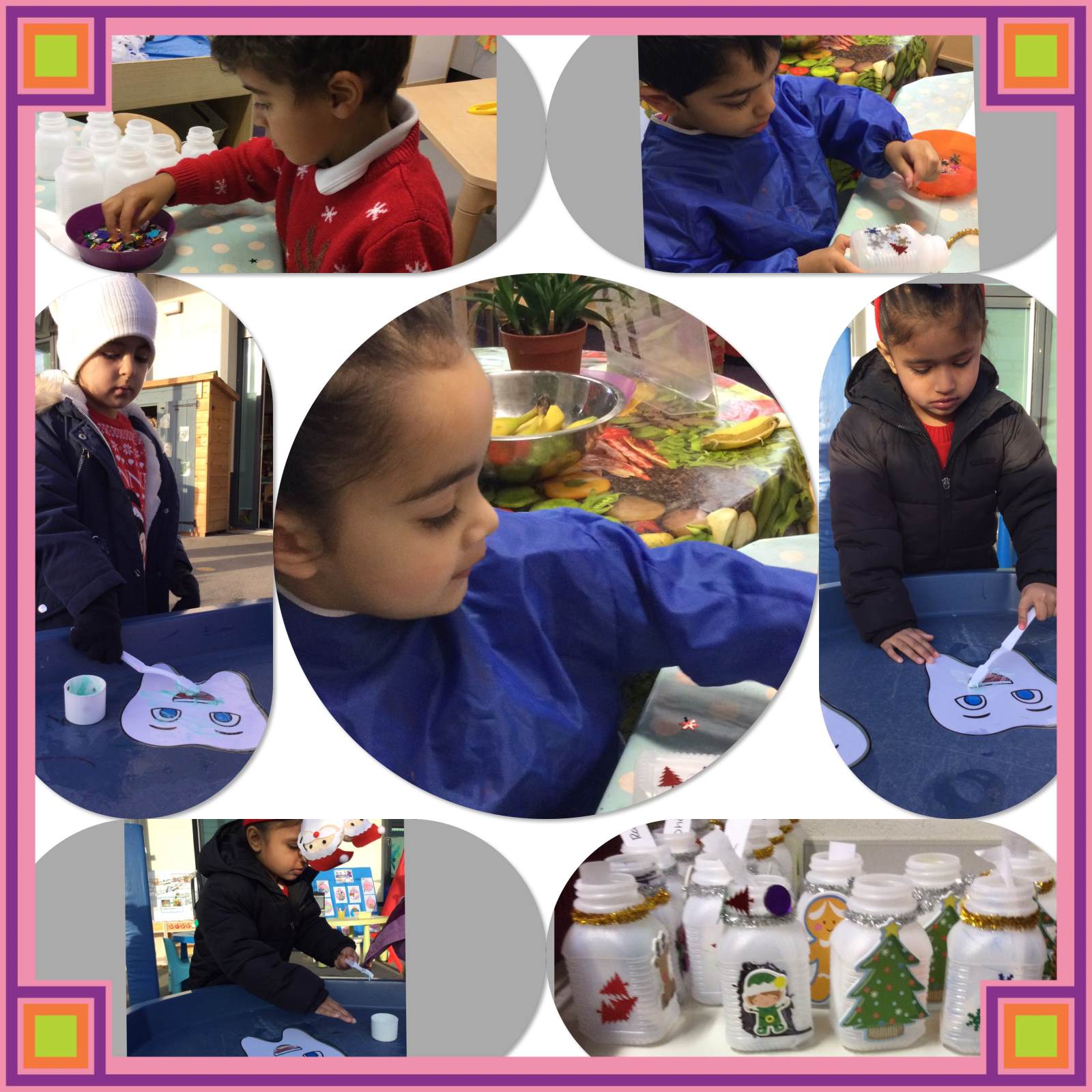 The Jolly Postman
This week nursery has been reading 'The Jolly Postman'. We followed him as he delivered special invitations on his bike to much loved fairy-tale characters. For our literacy activity, the children drew and described their favourite character from the book. This was a great way to develop their communication and language skills.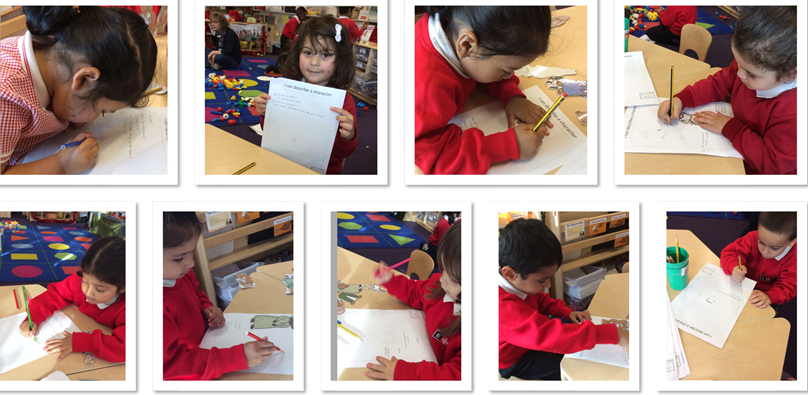 Owl babies
Owl Babies offers a safe and secure opportunity to explore separation anxiety and the worries that children naturally experience. The story allows children to look at the situation of a parent going away through the eyes of Sarah, Percy and Bill and explore their own feelings.
The children have made their own sponge print baby owls while discussing different types of emotions.
Children In Need
The nursery children had a great fun filled day making spotted hats, colouring in pudsey pictures, matching pom pom's to numbered Pudsey's
and lots of other colourful activities. They also raised lots of money for a wonderful charity by coming to school in non uniform. Thank you.
Pizza Faces
Wow. The children made their own pizza faces today. They used lots of healthy ingredients and all dietary, allergy needs were met. The children were excited to eat them when they were ready. I hope they told you all about them when they went home.
Happy Diwali
Thank you to everyone for your kind donations towards nursery's Diwali party. The children had a fantastic day learning about the festival and taking part in related activities. They decorated paper hands, made cards, danced to traditional music and some made divas to decorate the classroom. Then of course it was party time which you can see in the pictures was a big hit with them all. Finally they had the chance to decorate a firework biscuit, which they took home.
Remembrance Day
The nursery children did really well taking part in a 2 minute silence to Remember the soldiers who fought and lost their lives in the war. They watched a 2 minute child friendly CBeebies animation during the silence.
Some of the children then made small poppies for our garden and some made big poppies for our display. Then they all decorated a biscuit to look like a poppy which they could take home.
Rainbow fish
Rainbow fish is a story about a fish that learns to make friends and share.
During carpet time the children used masks to act out the story. They found this very amusing and even continued to act it out during free play.
They also made some beautiful coloured fish which we have put up as a display in the classroom .
Elmer
The children had really enjoyed the book Elmer . Elmer is an elephant who is different just like all of us and the story shows how it's ok to be different.
The children all worked together outside using different coloured chalk to colour in the squares of a large Elmer. The end result was amazing, you may of seen it in the playground.
Autumn 1
All Nursery children have had a fantastic time in Forest School this week - there was a special letter delivery from the brown bear in our book week focus Michael Rosen's 'We're Going on a Bear Hunt'. The bear asked all children to go on a bear hunt to find his friends. All children put on their wet suits and wellington boots and went on a bear hunt, following a map which showed where each bear was hiding. The children absolutely loved exploring and discovering in Forest School as well as moving through different terrains and making different sounds to represent the terrain. Children loved splashing in the 'deep cold river' and climbing the 'thick ozzy mud' on the big hill, also known as the mountain. Also, in our outdoor setting children have been acting out the story and used different materials to represent each stage of the book. Children had lots of fun spinning in the 'swirling whirling snowstorm' and moving through the tunnel of the cave. Children enjoyed creating their own bear masks and constantina books to help them re-tell the story with the aid of a story map. Our small world area in class was a hit this week where children worked together to re-tell the story independently and change parts of the story!

We have been investigating pumpkins all week in different ways as well as a sunflower head. The children have asked lots of questions and learnt about how plants grow. Some children enjoyed sampling sunflower seeds too!
In preparation for our next topic 'All about me!' Children have been sharing stories about their families in circle time.
Nursery had a wonderful time visiting the farm that came into school. The children were very excited to see farm animals such as ducks, goats, chickens, turkeys and sheep and learn lots about the animals!
This week Nursery children went on a nature walk to collect natural materials for part of our Autumn art project and counted and grouped their findings. The children had lots of fun using the materials as part of their 'Kitchen Disco' (our new focus reading book), investigating floating and sinking in the water tray and leaf and conker printing. Our book focus has encouraged lots of disco dancing in class and the children have loved having disco lights in class and moving around in a Conga Line. The children have been creating their own 'Favourite Fruit' books as well as identifying healthy and unhealthy foods and reading a variety of books in our Jungle Reading Den is always a stimulating experience.
Nursery have had a very exciting week! Children helped to create our very own Class Charter and have been showing lots of kindness to one another and sharing. It has been fantastic to see the children playing together and making friends. As part of our topic, 'Shake, Shimmy and Dance', we have been reading 'Giraffes Can't Dance' by Giles Andreae and Guy Parker-Rees and the children have had lots of fun dancing and moving with the colourful ribbons as well as listening to West African music as we have begun our Black History Month celebrations. With lots of focus on gross and fine motor skills all children have been very active in our playground area. Children have been working as a team and problem solving on how to rescue a bear, inspired by one of our favourite class books, 'We're Going on a Bear Hunt' by Michael Rosen, which we enjoyed listening to in our Forest School this week. Children preserved with the challenge and used their hands to untie and cut their way through the maze to save the bear. Well done Nursery!
Nursery have had a wonderful week settling-in to class! We would like to say a huge "Well Done" to all of the children for coming into Nursery independently this week, it's such a big milestone for Nursery children and we are all very proud of the children. Here is a example of some of the activities that the children have been participating in this week. Children have continuous access to the indoor and outdoor settings and have enjoyed exploring all the activities and resources that we have available. The children have enjoyed singing lots of Nursery Rhymes and listening to lots of different 'Starting School' stories. Friendships have been formed and lots of fun too!
The Nursery children have had a wonderful time settling-in to London Class. The children have busily explored our indoor and outdoor provision and made new friends with both the children and the adults! We are very excited now to welcome all the children into Nursery at their regular timings and look forward to working with the parents and carers to ensure that all children are happily learning and ready to join us in our class rhythms and routines. We have a fantastic year ahead!
Curriculum
Letters and Communication
Summer 1 - Newsletter
Autumn Term Newsletter
Spring Term 1 Newsletter
Homework
Spring 2 Homework Bingo