Reception - Essex
Summer 2
Week 5 - Please see below for the learning and fun that has taken place this week!
Sports Day
This week Reception had their Sports Day! The turn out was amazing. Loads of children had their parents come to support and cheer them on. All the children enjoyed taking part in each activity and the sun was shining.
Week 3
Road Safety Magic Show
This week, pupils enjoyed an amazing, fun filled loaded with serious and important safety messages regarding road safety. The show allowed pupils to understand the importance of behaving safely around roads.
Top Tips for Road Safety for Children
1. Always walk on the pavement or path if there is one - never stray onto the road.
2. Walk as far away from the kerb as possible.
3. Walk-in a single file on the right side of the road facing the traffic if there's no pavement.
4. When looking to cross a busy road with the multiple lanes of traffic, always walk to the nearest zebra crossing or green man traffic light if possible.
5. For young children, always encourage children to hold the hand of a responsible adult when walking across or by busy roads.
Always remember, STOP. LOOK. LISTEN. And THINK, before crossing the road with a grown-up.
Week 2
Science Week
British Science Week is organised by the British Science Association. The theme for this year's activities is 'Growth'. This week, pupils in Reception have been engaging in a variety of activities promoting learning and discovery across the week. Our 'Science Fair' was a success, with parents/carers joining in our outdoor learning with their children.
Can you carry out an experiment at home and upload your findings onto Tapestry?
Week 1
DSR
Welcome back everyone to Summer Term 2. I hope everyone had an amazing week off and ready for the last few weeks on this academic year.
This week in Reception, Daily Supported Reading (DSR) was introduced to the pupils to promote early reading. Each session was a success and the children really enjoyed reading stories together and independently. They were able to predict what the story might be about and link it back to their everyday lives. Thank you to all our parent volunteers, without you DSR would have not been possible.
Summer 1
Week 6
Queen's Platinum Jubilee
A jubilee is a special celebration of an event. A platinum jubilee celebrates 70 years of an event. The Queen's Platinum Jubilee celebrates 70 years of her being queen. This will be the first time a British monarch has celebrated a Platinum Jubilee.
Did you know? Queen Elizabeth II is England's longest reigning monarch. This means she has been Queen for a longer time than any other queen or king.
This week, we have been celebrating by creating our own crowns to wear at our Platinum Jubilee party!
Week 5
Jasper's Beanstalk by Nick Butterworth & Inkpen
As part of our core text this week, we planted Beans using soil and gardening equipment. This activity allowed pupils to address all seven areas of learning. Pupils were able to explore and enjoy the world around them! Pupils learnt about the different parts of a plant and what plants need to grow. Our core text allowed our pupils to develop their understanding of growth and decay, and how to care for plants and flowers.
PE
This week in PE, Essex class demonstrated they can negotiate space and obstacles safely. Children used a cricket bat and tennis ball to dribble around the cones with excellent control.
Week 4
Jack and the Beanstalk
This week the children have been learning about Jack and the Beanstalk. They demonstrated their understanding of the story by exploring and growing their own magic beans.
Week 3
Eid Party
This week Essex class celebrated their Eid party. The children had so much fun eating party food and playing party games. Eid Mubarak to everyone that celebrated the special day.
Week 2
Snakes Alive
This has been a really exciting week for Reception. Snakes Alive came to visit the children and brought along a few reptiles and minibeasts. The children had an amazing time and they were all so brave to hold the animals.
Week 1
Forest School Update
Welcome back everyone to Summer Term 1! I hope you all had a lovely Easter and a restful break. This week in Reception some of children went out into the Forest School Allotment to water the potatoes that were planted before we broke off for the holidays. The children used jugs to fill up their watering can, talking about if it was half full, half empty, full and empty.
Spring 2
Week 6 - Please see below for all the learning and fun that has taken place this week!
Last Day of Spring Term - Easter Holidays 2022
Today, is our last day of Spring Term. All pupils in Essex Class have worked hard this term. This afternoon, children spent the afternoon engaging in mindfulness colouring with peaceful music playing in the background. It was a lovely atmosphere in our classroom.
We would like to take this opportunity to wish you all a Happy Easter, Happy Vaisakhi and Ramadan Mubarak to all our families celebrating.
Easter Concert Performance
Reception have been practicing really hard for their Easter concert performance. This year they sang 'Hot Cross Buns'! I hope you enjoy their singing as much as I did!
/i/video/Hot_Cross_Bun.mov
Week 5 - Forest School Squad - Update
This week during our Forest Squad session, parents/carers were busy planting our potatoes into the compost. Both Manchester and Essex Class pupils had so much fun learning the skill of gardening!
As always, thank you to our parent/carer volunteers for making this experience so enjoyable for our Reception pupils!
Week 4- Forest School Squad - McCain 'Fork to Knife' Project
For our topic this term, we are learning about 'Creepy Crawlies and Growing'. We have been given an exciting project from the company McCain to grow potatoes. These potatoes will be cooked by our Kitchen staff and the children will be able to eat them as part of their lunch.
This week, our first 'Forest School Squad' session begun with our superstar parent volunteers. Pupils loved getting involved with preparing our allotment space for our potatoes.
Thank you to our parent volunteers, we appreciate your time and support in driving our project forward!
---
Week 3 - Please see below for all the learning and fun that has taken place this week!
Fruit Smoothie
This week Reception made fruit smoothies using strawberries, banana and milk.
Week 2
World Book Day 2022 - Secondary School Visit
This year, is the 25th anniversary of World Book Day – with the message for all children 'you are a reader!'. The day was filled with lots of exciting, celebratory ways that promoted reading for pleasure. Pupils in Reception had the opportunity to visit the library in Secondary School and shared picture books with Year 7 students.
From next week, children in Reception will visit the Secondary School for a library session with Year 8 students every Thursday afternoon.
Caterpillar Hunt
As we're learning about 'The Very Hungry Caterpillar', some children from Essex class wanted to go on a hunt to find some caterpillars in the Forest School. We looked high and low but sadly we didn't spot any caterpillars, we found loads of worms instead. Fingers crossed we have better luck next time!
Counting to 6
This week in maths we have been learning about number bonds and counting to 6. Here you can see some children finding different numbers that make up number 6 and writing the number sentence down. Some even had a go of doing their own number sentences up to number 10. Well done Essex class!
The Very Hungry Caterpillar Story Map
As part of our 'Talk 4 Writing' unit of work, pupils have been learning to orally rehearse the story 'The Very Hungry Caterpillar' by Eric Carle. Oral rehearsal allows pupils to have the opportunity to 'write aloud' before they begin to writing on paper. Here you can see one of our students orally retelling the story and some children that have started to draw their own Talk 4 Writing story maps.
Challenge: Can you ask your child to retell the story using the map below? Record and upload your video onto Tapestry!
/i/video/Aiden_Retelling_The_Very_Hungry_Caterpillar.mov
Garden Centre
As the theme for this term is Minibeasts and Growing, both Reception classes have decided to make our role play area into a Garden Centre.
Artist Study - Eric Carle
This term, we are focusing on Eric Carle as part of our Expressive Arts and Design curriculum. His artwork is created in collage technique, using hand-printed papers, which he cuts and layers to form bright and cheerful images. Pupils used this technique to create their very own collage for our display in the classroom.
Challenge: Can you create a collage at home using different materials? Take a picture and upload onto Tapestry!
The Very Hungry Caterpillar Story Telling
Essex class have really enjoyed learning 'The Very Hungry Caterpillar' story last week. This week they were able to re-tell the story using props to their friends as an activity.
Week 2
The Very Hungry Caterpillar Fruit Salad
This term in Reception our theme is Minibeasts and Growing. The first core text we are looking at is 'The Very Hungry Caterpillar.' Children in Essex class this week learnt about healthy eating and got the chance to make fruit salad using the fruits from the story. They followed instructions to make their fruit salad and then wrote up their own instructions of steps they took.
Spring 1
Safer Internet Day
On Tuesday 8th February 2022 we celebrated the 19th edition of Safer Internet Day (SID). With the theme once again of "Together for a better internet". In Reception, we read the story 'Smartie the Penguin' and we followed his adventures as he learnt how to be safe on the internet.
Number Day Workshop
This week Reception was very lucky to take part in a maths problem solving workshop part of Number Day. Essex class showed excellent team work to solve each task.
Train Driver Visitor
This week Reception was very lucky to receive a visit from one of our parents who came to share how it is to be a train driver. The children got to see videos of how the trains get washed, learn about how the trains are driven and ask questions.
NAUGHTY BUS HAS GONE MISSING!
This week he has been causing trouble around the whole school and making a mess. Reception have been working really hard planning a trap to catch Naughty Bus. If you see him, make sure you catch him and don't get him go!
Positional language
This week in Reception we have been learning about positional language in maths. Children were able to explain and demonstrate different positional language with their friends. Essex class also had fun putting dinosaurs in different positions using wooden blocks and planks and making their own labels.
Happy New Year - 2022!
Happy New Year to you and your family. We hope you all had a wonderful break with your family and friends. Welcome to Spring 1! This term our theme is 'On the Move'.
This theme will provide learning opportunities on the theme of travel. This week to kick start our new topic, pupil in Essex Class painted their own Underground sign to hang around their classroom.
Autumn 2
End of Term Party – Happy Holidays!
Essex Class had a fabulous time celebrating the year with their friends! We enjoyed dancing and eating yummy party food. Pupils in Essex Class were dressed to impress for their Christmas party and we had a surprise visit from Santa! Well done to all pupils in Essex Class for all their hard work and dedication. Hope you all have a well-deserved break and keep safe over the holidays! See you all in 2022!
Early Years Enterprise Fair
Well done to Nursery and Reception for their success in the Eco-Enterprise Fair. Each class was given a £20 budget to design, create and evaluate their own product. Nursery and Reception created festive toothbrush holders made from milk cartons. We contacted our local dentists and supermarkets and they kindly donated toothbrushes and toothpastes for all our pupils. Nursery and Reception made a profit of £165.18 – AMAZING! The school council will decide how this money will be spent on the school. Thank you to our parents/carers for your continued support.
//www.youtube.com/embed/EA5ZZNeu4W0
//www.youtube.com/embed/8VBzg6XJd7g
EYFS Christmas Concert
All pupils across Nursery to Reception have worked tremendously hard to learn songs and actions for our 'Early Years Christmas Concert'. Here is a sneak view of some pictures from their performance – it was amazing! We can't wait for you all to watch the recorded video! Well done Nursery and Reception!
Decorating our Christmas Tree
Essex class were really excited to decorate our class Christmas tree. We thought the best place for it was Santa's workshop.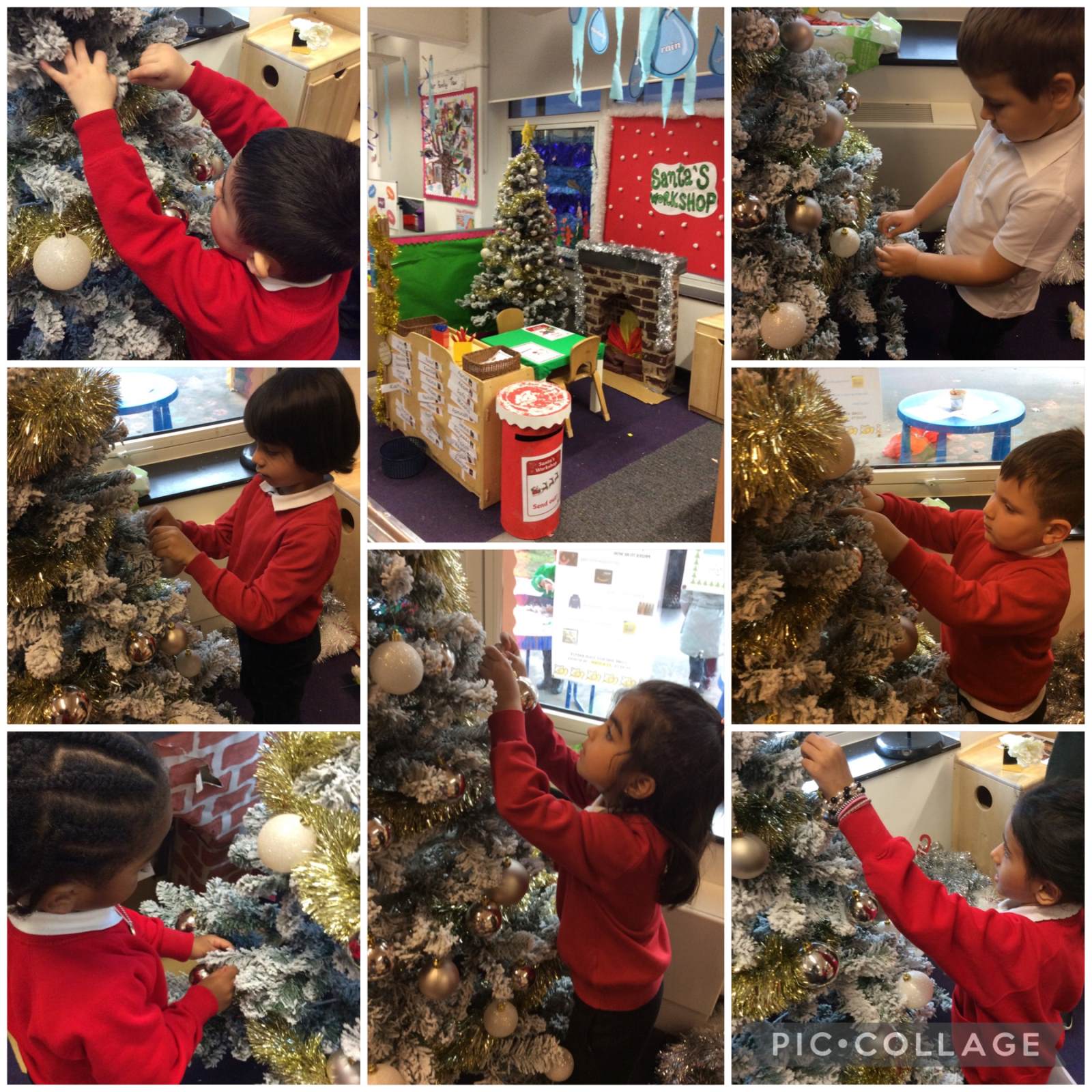 Supertato Chips
Essex class have really enjoyed learning about Supertato the past three weeks. They've made their own Supertato using real potatoes, made mushy peas in messy play, made wanted posters for Evil Pea and made a trap to catch him. As a class we thought a nice way to end the topic was to make chips. The children helped peel and cut potatoes and we all enjoyed eating them at the end of the day.
Remembrance Day
For Remembrance Day Essex class enjoyed making Poppy Biscuits to mark the special day. The whole school held a 2 minutes silence to reflect and remember all the brave people who died fighting for our country.
Evil Pea Hot Seating
This week in Reception we've been learning about Police Officers. We created our own police story map and discussed different questions the police might ask criminals. In the videos the children took part in hot seating. Evil Pea sat on the seat and the other children took the role of the police; asking him questions. They really got stuck in and enjoyed this literacy lesson. Well done Essex class!
//www.youtube.com/embed/KDEMMb5qDcs
//www.youtube.com/embed/F1B-oOuXhDg
//www.youtube.com/embed/F1B-oOuXhDg
//www.youtube.com/embed/__9i3XYdF4I
Happy Diwali and Bandi Chhor Divas!
Thank you to our parents/carers for donating a generous amount of money for our Diwali party! All pupils had an amazing time engaging with a variety of activities related to the festival which is celebrated by Sikhs and Hindus across the world. Pupils had fun creating their own Diwali cards and Rangoli patterns! As you can see, the pupils enjoyed their party food and they all had an amazing time with their friends.
Autumn 1
Measuring Length
Reception have been learning all about measuring lengths today. They all had different length string that they used rulers, measuring tape, cubes, Lego and lolly sticks to measure how long their string was. They then recorded their answers by drawing a picture and writing the length of their string.
Repeated Pattern
This week in maths, we have been learning about repeated patterns. The children enjoyed making repeated patterns using coloured pom poms on our maths table. They also made repeated patterns using different objects. The children learnt that you can make repeated patterns in all different shapes; horizontally, vertically, diagonally, in a zigzag, circle, square, even in an Elmer shape.
Reception Essex - Measuring Lengths
T4W 'Elmer' Innovation Story – Mini Whale
This week in literacy we changed the character in our "Elmer" story map to "Mini" who is a whale. We also changed the setting of the story from a jungle to under the ocean. The children have been doing fantastic in learning their Talk For Writing story map. This is Adam confidentially retelling our new story "Mini" in front of the whole class.
//www.youtube.com/embed/bVCGlHQ4IP8
Investigating Height
In maths we have been ordering items by height from shortest to tallest. We talked about different buildings and everyday items we use. We measured and ordered some of our friends in the class by height and then we made our towers and measured them using a measuring tape and rulers. Some of the children were able to add and take away blocks to make them even heights.
Elmer Junk Model
The children were asked to bring in milk bottles from home to make their very own "Elmer". This is how they turned up. Thank you to all the parents that sent milk bottles in with their children.
Elmer Class Display
Essex class have been working really hard to make a large Elmer for our class display. The children used different coloured tissue paper to create Elmer's rainbow coloured patchwork. Elmer is not like any other elephant, he's different just like the children we have in our class. Some children had a go at writing about why they are different and unique. We hope you love our class display just as much as we do.
Sorting Sizes
This week in maths we've been learning about sorting. The children have learnt how to sort colour, objects, shapes and sizes. Here you can see some of the children sorting coloured teddies in groups of small, big and large. They worked really well together and completed the activity independently. Great job girls!
Elmer Biscuits
This week Reception have been learning about 'Elmer'. We thought it'll be a fun and yummy idea if we made our own 'Elmer' treat. The children enjoyed pouring, measuring and mixing all the ingredients into the scale and bowl. Later, all the children had the chance to roll out some dough and cut their very own 'Elmer' biscuit. When they were ready out the over the children decorated their biscuits with icing sugar and rainbow coloured sprinkles, just like 'Elmer'. As much as the children loved making the biscuit, think they enjoyed eating it more! – Yummy!
Large Elmer
Today Essex class helped decorate a large 'Elmer' using different coloured tissue paper for his rainbow patchwork. This will go up on the wall as a class display. Keep your eyes peeled for the final masterpiece!
Owl Babies
This week we have been reading 'Owl Babies' by Martin Waddell in Reception. The children have enjoyed exploring different activities linked to our core text. They also had fun making their very own 'Owl Babies' using white paint, sponges, and cotton wool. As a whole class during Literacy, some children came up and re-enacted the story. Can you ask your child to retell the story of 'Owl Babies'?
//www.youtube.com/embed/fwC7kcc7Lqw
PE with Essex Class
Today Essex class had their very own PE lesson. They started off by playing the traffic light game to warm up. Then the children were split into two groups where they all had a go at throwing a bean bag into a hoop. Lastly, they finished off by doing some stretched and a breathing activity.
Eastbury Community School respects the work-life balance of its staff. Emails will be responded to during normal working hours.
//www.youtube.com/embed/Dkz0OE0c3n0
Stay and Play with Lunch
Today was a BIG day for our parents/carers and our Reception pupils as it was their first session including school dinners!
Mrs Bansal, Miss Begum, Mrs Patel and Miss Siddique are so proud of each and every child because it was a success! It was lovely to see big smiley faces with their tummies feeling FULL!
Here are some pictures of our lunch time…
Children's First Day in Reception!
The children had an amazing first day in Reception. There were a few tears but the children settled in really fast. They were all so excited about their new class, teacher, outdoors environment and new friends. Here are some pictures of what the children got up to.
Certificates
Homework
Letters & Communication
Curriculum Newsletter
Curriculum