Reception - Essex

Welcome to Essex's class page!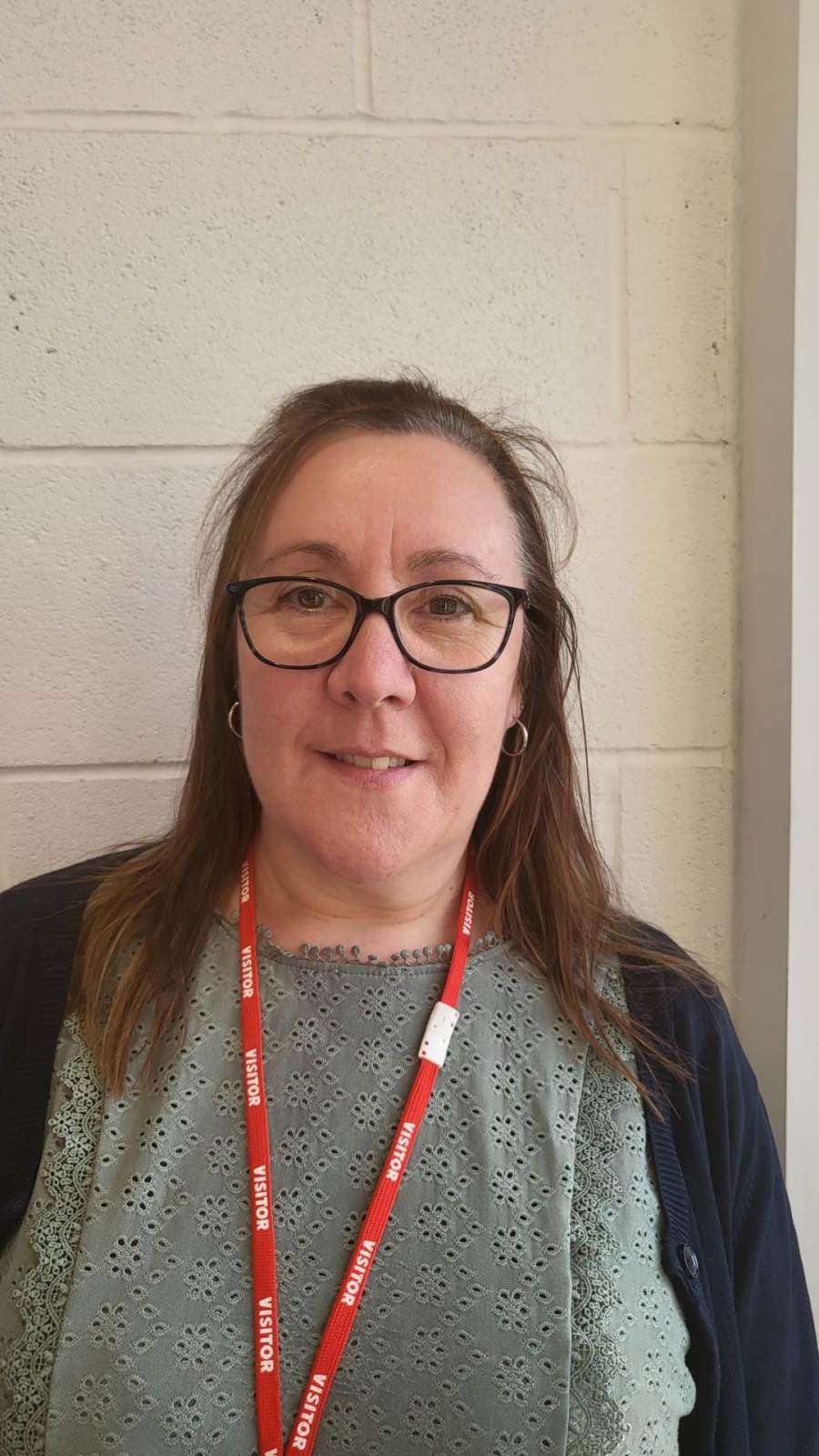 Welcome to Essex Class page, my name is Mrs McKenzie and I am the class teacher. Mrs Uddin is our class Teaching Assistant.
We hope you enjoy seeing all of our fun adventures and our learning.
Mrs Uddin and I have a true passion for working with our youngest learners and we strive to create an environment where your child can grow and thrive while exploring the world around them! We believe a positive early years educational experience is essential for lifelong learners.
We hope our class page gives you a flavour of life in Essex Class!
When we give every child the best start in their early years, we give them what they need today. We also set them up wit every chance of success tomorrow
Autumn Term 1
Week 1
Embarking on the journey of starting school is a fresh adventure, and it can be an apprehensive experience for both our young pupils and their parents. Nevertheless, we are dedicated to ensuring this transition is as seamless as possible.
Our Reception children have been adapting admirably to their new routines, which has been a delightful process for us as we've had the privilege of getting to know both our students and their families. The children have enthusiastically explored their new learning environments, both indoors and outdoors.
We eagerly anticipate the opportunity to collaborate with all of you throughout this year and are excited to celebrate each child's unique learning journey.
Week 2
This week, we had our first PE lesson. We explored jumping in a variety of ways: loud, quiet and different animal jumps. We learned that we need soft knees when landing. We also learned how to jump high and long, and we used the knowledge and skills we had learned to play a game. We had lots of fun! Then we learned about the different types of jumps: starfish, pencil jump and knees to chest. We then practised them.
Week 3
This week, our young learners have been fully engaging with our central book, 'Owl Babies' by Martin Waddell. They have been studying and acting out different segments of the story. Additionally, in maths, they have been actively organising items into appropriate groupings.
Week 4
We started our Spanish lessons in school. Mr Moreno has been helping us to count to 10 and we have been learning the days of the week.
Learning a new language helps to develop social and cultural awareness. Children will learn about other countries and cultures which creates a wonderful experience and allows children to learn about the world.
Please practise counting to 10 with your children this week.
Week 5
Outdoor Fun
Outdoor learning is very important in early years. Children are encouraged to explore and play outside in all weathers. "In Outdoor Learning pupils learn through what they do, through what they encounter and through what they discover." We have been having lots of fun in our outdoor provision. The children have been exploring our forest school, where we were making soup and collecting natural resources to use as our 'ingredients'. Children enjoyed exploring the climbing frame, running and making friends.
Week 6
In Essex class this week, we have been learning about Autumn. The children have learned lots of facts about the changes that we can see during Autumn. How some animals will get ready to hibernate, how the trees change and loose their leaves and the types of weather we will experience in during the Autumn season.
The children have been bringing in lots of natural resources which we have explored and discussed. The children have been making some wonderful leaf art as well as dressing up today for our 'Autumn Day'.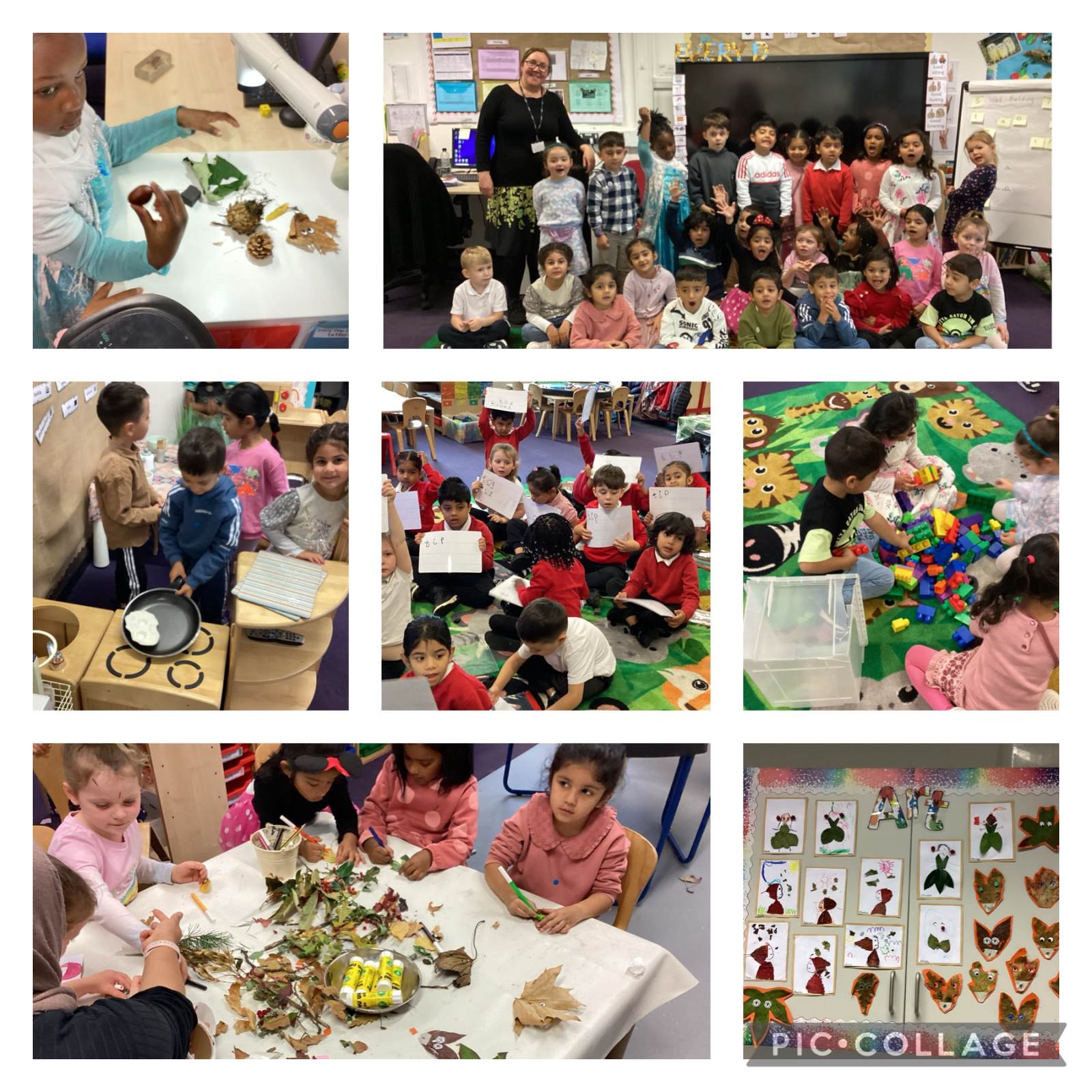 Autumn Term 2
Week 1
We have had an exciting week in Essex Class this week.
We have been reading 'Supertato' by Sue Hendra and one of the characters from the story has been up to mischief in our classroom!!
The Evil Pea made a mess in our role play hospital, but luckily the children had lots of fun exploring the area. Children in Essex class have been making the hero of our story- Supertato from vegetables.


We practised some of our maths learning from last week and made some colourful repeated patterns.


Week 2
UK Parliament Week
This week, the children in Reception have been exploring the significance of democracy and the value of having a voice. We have been thinking about choice and making decisions. In our lesson this week, we were thinking about our local community and the things that are important to us. The children in Essex class had a choice between clean streets and safe places to cross the road. The children were able to talk about why each choice was important to them.
The children then voted and were able to choose the topic that was important to them. Our final tally showed that the children in Essex class decided that they wanted to clean up the streets around our school.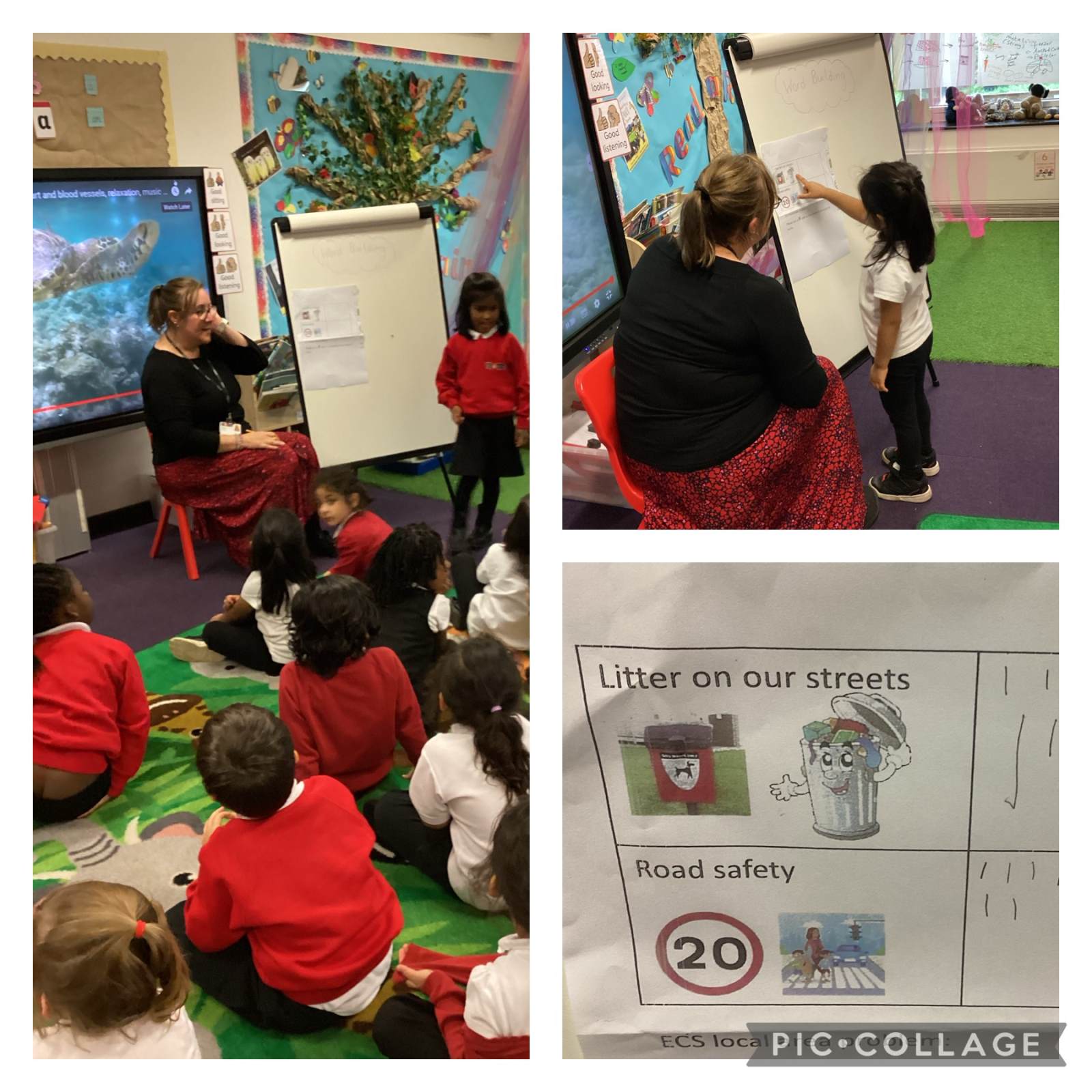 In other news this week, we have continued to explore the book, Supertato. The children have been very engaged with finding the evil pea in our classroom and have even visited the 'police station' role play area in Manchester class, to report Evil pea's mischief to the police. The children have been designing a trap to capture Evil pea and were able to say why they had chosen a particular design.
In maths we have been practising counting to five both forwards and backwards.
week 3
We have been talking about celebrations in Essex class this week. Our week started off by learning all about Diwali and we even had a dress up day to celebrate this special event.
The children learned about the story of Rama and Sita and we found out how Hindus and Sikhs celebrate Diwali by lighting Diva lamps and watching fireworks.
In our classroom provisions we used Holi paint powders to create firework pictures and we used coloured rice to fill in our Rangoli patterns.
Although we had some wet weather this week, we then had lots of fun exploring the puddles that had been left behind. We also started clearing out our allotment so that we can start our spring planting.
To end the week, we dressed up for Children in need and raised money for this fantastic cause.
Week 4
World Children's Day
We have been thinking about a very important topic in our classroom and with the rest of our Eastbury community, we were talking about the rights of the child.
"World Children's Day is all about the importance of children and young people and how their rights, freedoms and wellbeing all need to be protected in order for them to grow into happy, healthy adults."
The children took on important roles in our classroom and were able to be the teacher for the day! Well done to our young learners for taking on some of the tasks in the classroom and leading activities such as reading a story, leading the children to lunch and helping to teach the lessons.
In other news this week, we have been learning to count and represent numbers up to 5. Our children made a mini book using the numbers 1-5.
We have been creating a non-fiction report for our superhero character Supertato. We thought about what a heading was, how to describe a character to write an introduction and we used words like sparkly and supersonic to make our report interesting.
We had our first music lesson and we are learning the song "I'm a little teapot". Some children played instruments, some sang our song and some performed the actions. We listened to the beat and followed along.
Week 5
The children in Essex class have been exploring our environment this week. The children have demonstrated curiosity in their surroundings.
In maths we have been making number bonds to 5. The children have been thinking about which two numbers can make 5. They have used different resources to help them understand this mathematical concept. In our lesson we made towers with 5 bricks, which we broke in to two and counted each part. We then said the number sentence - i.e 3 and 2 make 5.
We have continued to learn our phonics and the children are working really hard and beginning to blend familiar words.
We enjoyed our science lesson this week where we explored floating and sinking. The children worked with a partner and predicted which objects would float or sink. The children were able to explain their choices.
Week 6
We have had another fun filled week in Essex class this week. We have been busy learning new concepts and as usual, having lots of fun in our classroom, outdoor area and our forest school.
In maths we have been investigating 2D shapes. We have been describing shapes using maths vocabulary such as corners, edges, curved and straight edges. The children used 2D shapes to make some interesting pictures and were cutting shapes out of paper.
We never let the weather stop us in Reception and we had an outdoor science activity when the cold weather froze all of the water in the Forest school and outdoor playground. The children were exploring different ways of melting and breaking up the ice.
Curriculum Overview
Curriculum Newsletters
Knowledge Organisers