Year 1 - York
Class Teacher: Mrs Hyder
Teaching Assistants: Miss Siddique, Mrs Akram
Hello everyone and welcome to our class page!
In our class, we have thirty brilliant, curious and hardworking children who are supported in their learning by an outstanding Year 1 team and very supportive parents.
We are excited to share our page with you and we hope you enjoy being a part of all the wonderful learning we do!
Our class values of willingness, ambition, resilience, respect, enthusiasm and never giving up, permeate the life of our school, with staff, pupils and parents working and learning together, sharing a common aim for all our children to be the best that they can be in our journey of building tomorrow, today.
With best wishes,
Mrs Hyder, Miss Siddique and Mrs Akram.
Curriculum Overview
Letters & Communication
There are no documents to display at present.
Autumn 1
Week 1: Transition week./docs/Y1_Welcome_Meeting-_Final.pptx
York class have had an amazing start to year 1. They have all settled in extremely well.
As a team, we have thoroughly enjoyed getting to know everyone! All the children have loved getting stuck into a range of activities.
The children designed 'Under the Sea' creatures using glitter, tissue paper, pom poms and colourings. This art work will be displayed in our book corner. We have some very talented artists in year 1!
Artists hard at work!
The children have loved continuing building on their fine motor skills through the use of bead threading. We have also enjoyed exploring simple addition and subtraction using number lines and cubes.
Week 2- All things Rainbow
Wow! What an amazing week York class have had. We have been creating our own rainbow poems and to end the week, we switched on our creative minds and produced beautiful rainbows using finger printing! We all had lots of fun sharing our lovely art work with each other.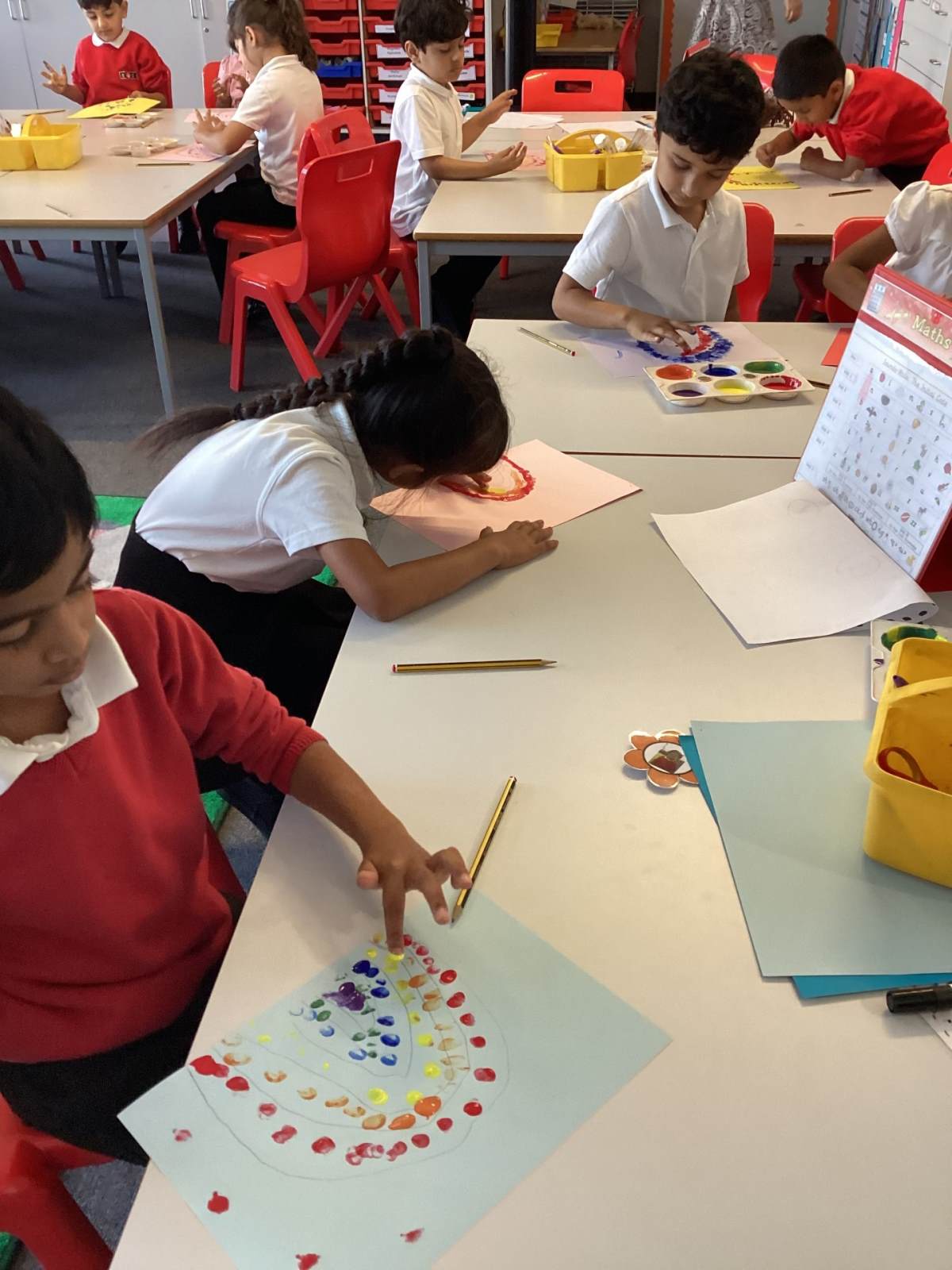 Week 3- Computing Enthusiasts
York class have been busy doing lots and lots of learning! On Tuesday they were all able to log in to laptops using their OWN usernames and passwords. They also very successfully navigated their way into iLearn2 website to practice using the trackpad! I must say, I was very impressed! It was a huge achievement for everyone! Well done York class!
Week 4- Wonderful speakers
York class have been busy delving into Elmer! This week they spent time to practice and perform different parts of the story!
/i/video/IMG_2448.mov
Week 5- Similarities and Differences
York class are a diverse group of young children! Full of different and special personalities! In PSHE, we learnt about our similarities and differences by writing about the different things we like and enjoy but also things we don't! It was interesting to see how we are all so united but individuals at the same time! /docs/Week_5_wow_moment.docx
Week 6- We love science
We have had such a fun week exploring wind! We explored wind in the different seasons and how it changes depending on temperature and place. York class had a fantastic time creating wind socks to measure the direction of the wind in the playground. Which direction do you think the wind travelled in?
Autumn 2
Week 1
This week, York class went on a visit to our local church, St Margaret's. Once there, they were told about the history of the church and how important it is to Barking's history. We even found out that Captain Cook (the explorer who founded Australia and New Zealand) was married here back in 1762.
We had the opportunity to explore the church looking for stained glass windows, figurines and even a dragon!
Week 2
This week in Science we have been exploring different materials. We had the opportunity to feel the different objects, decide what material they were and then we discussed how they felt and used the best scientific words we could!
UK Parliament Week
This week it is UK Parliament Week so we have been learning what it means to vote. We discussed two issues that affect our local area - litter and road safety - and then cast our own vote, just like our parents do.
Votes will be counted on Monday and then we will decide how we can campaign to improve things for all our families.
Knowledge Organisers
Please find attached our knowledge organisers for this term.
/docs/Year_1_Autumn_2_knowledge_organisers.pptx
Spring 1
Spring 2
Summer 1
Summer 2
Special Events/ Trips