{SECTION_MENU}
Year 4 - Birmingham
Welcome to Birmingham class!
We are Mrs Simisaiye and Mrs Marshall and we are very pleased to be teaching Birmingham class this year.
We are looking forward to the fantastic learning that will take place this year. Please take a look at our Welcome Meeting presentation to know more about the year ahead!
School Council
Our School Councillors for this year are Danut and Fereshtah.
Autumn 2
Autumn 1
Week One
It was wonderful to see all the children back in school this week, we hope you all had a lovely break.
We started our new year by discussing our school rules and the children all contributed to their Class Charter.
Week Two
This week, we have reading the story 'Lady Long legs' which the class are really enjoying. They have started each lesson by reciting and acting out a section of the story. We have been very impressed with their actions - very inventive!
Week Three
Incredible Science!
Our Science topic this term is States of Matter. We had a fantastic time exploring gases and observing what happens to a balloon that is attached to a bottle filled with baking soda and vinegar.
Week Four
This week in PE the children worked very hard on creating bridges using their own bodies.
Week Five
This week we have been learning about Jamaica to help us with our Report writing. Lots of children shared their knowledge of life in Jamaica and we even learnt some Patois!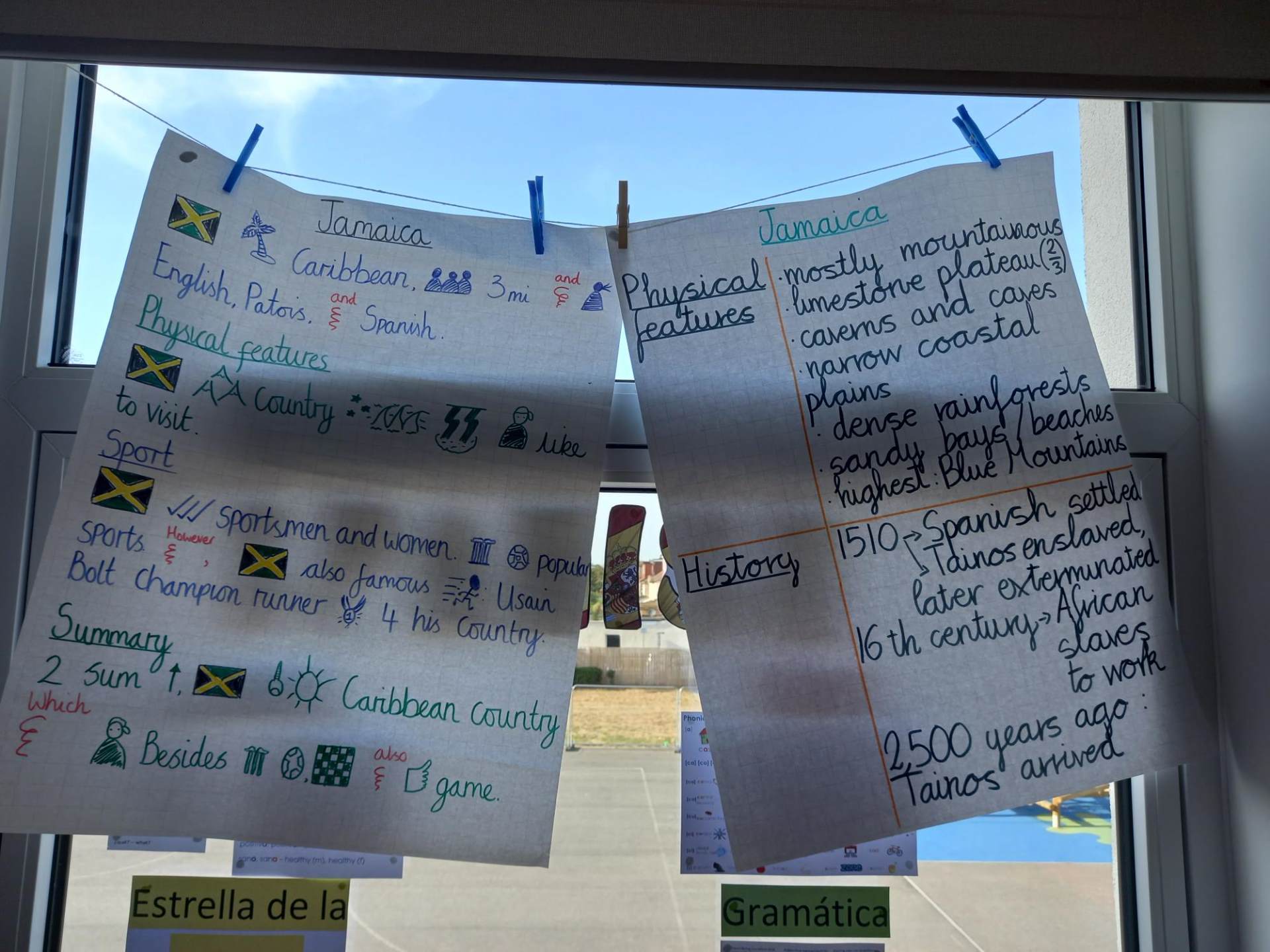 We have also talked about our own Well Being and Mental Health as this Wednesday was Mental Health Day.
Listen to what some of the children in our class said ....
/i/video/IMG_0138__1_.mov
/i/video/IMG_0140__1_.mov
Week Six
This week we have been listening to some influential and famous black musicians in recognition of Black History Month. The class enjoyed listening to Aretha Franklin whilst practising their handwriting in the morning. It certainly helped them to concentrate!
/i/video/Birmingham/IMG_0228.mov
/i/video/Birmingham/IMG_0229.mov
This week we have also worked hard on developing our Art Work, focusing on creating our own motif using a variety of patterns and colours.
/i/video/IMG_0272.mov
Week Seven
To continue to raise an awareness of black authors and stories we have read the book 'The Undefeated' by Kwame Alexander.
In PE this week we honed our skills playing Invasion games against one another... it certainly kept us all active!
---
Autumn 1 Knowledge Organisers
Here is the Knowledge Organiser for Autumn 1.
Autumn 2 Knowledge Organisers
Here is the Knowledge Organiser for Autumn 2.
y4 aut 2 knowledge organiser.pdf
Autumn 2
Week 1
At the end of last term we visited the Hindu temple in East Ham. The children learned about the Tenets of Hinduism and the mode of worship. The children were fascinated by the different images of different gods on display and had lots of questions for our guide.
Week 2 UK Parliament Week
This week, across the country it is UK Parliament Week, therefore we have been learning all about where the government meet, what happens in the Houses of Parliament and even holding our very own voting station here at Eastbury Community School.
In class, we started the week watching a short film about the role of the government and a tour of the Houses of Parliament. We then found out that our local MP is Margaret Hodge so we decided to write to her about the issues we thought were important to our local community - road safety, litter and cracked and uneven pavements. In pairs, we wrote letters to ask for her help to improve these and we will be sending them to her for her to read.
Then on Friday we all had the opportunity to vote in our School Polling Station. We were asked to choose one local issue that we feel we could tackle as a school. The choices were to either campaign to improve the safety of our roads locally or to tackle the issue of litter on our streets. Once all the votes have been counted, we will find out which issue won!
Week 3
This week, the children in Birmingham class were very excited to be the first class in the school to spell out the slogan 'Every Day Matters'. For each day that the class has 100% attendance they earn a letter. Then once they have spelled out the phrase they then receive a prize that is very special to them - extra playtime!
Well done to all the children on really trying hard to ensure they are in school every day - Now let's see if we can do it again before the next holiday!
Week 4
This week in Computing we have been learning all about the program, Excel, and how it is used in real life. We began by using the program to play a game of Battleships so that we could see how we input information into the different cells.
Week 5
This week, in RE, the children were able to use 'Hot Seating' to question each other on specific symbols of Christianity and why they are so important to Christians and their beliefs.
/i/video/Birmingham/IMG_0807.mov
British Museum trip
This week we visited the British Museum to help us learn more about the Ancient Egyptians. What a great trip it was! We were able to see a part of the Rosetta Stone, many artefacts collected from egyptian tombs and even some egyptian mummies!
It was also very interesting to see how hieroglyphics were used on so many of their belongings and in their rituals and beliefs.
Week 6
We started off our week with a very informative Workshop led by ChildNet. She talked to us about being safe online, making sensible choices and ensuring we protect ourselves when setting up programmes and choosing apps to use online.
Social Enterprise Week - Monday
This week in school is Social Enterprise Week, which means every class is designing and producing something to sell at our Christmas Fair on Thursday 14th December.
Today we began by discussing the product we had all voted on - Christmas Flowerpots! We started by drawing and creating designs for the pots. As it is Christmas our designs featured many of the symbols and images we associate with this time of year.
Wednesday
Today we focused on advertising by creating posters to showcase our product. We needed to remember the 4 P's:​
Produce – what is the product you are selling?​
Price – what is the price of the item?​
Place – where is the enterprise fair located?​
Promotion – How do you want people reading to promote the fair? ​ We were very proud of the results.
Thursday
Today we created our pots. We used our designs to ensure we had the correct colour paint and we lightly sketched our design first.
We were all so impressed with the final results!