Year 4 - Exeter
Hello and welcome to Exeter's Class Page.
Class Teacher: Ms Kreeger
Teaching Assistant: Mrs Bibi
We are looking forward to the fantastic learning that will take place this year. Please take a look at our learning journey below.
Autumn 1
Week 1
The children have settled in really well and had a great transition week. We created our Class Charter and thought about our rights and responsibilities.
Week 2
Meet our class councillors! After hearing great speeches, the class voted for Justin and Chloe to be our representatives.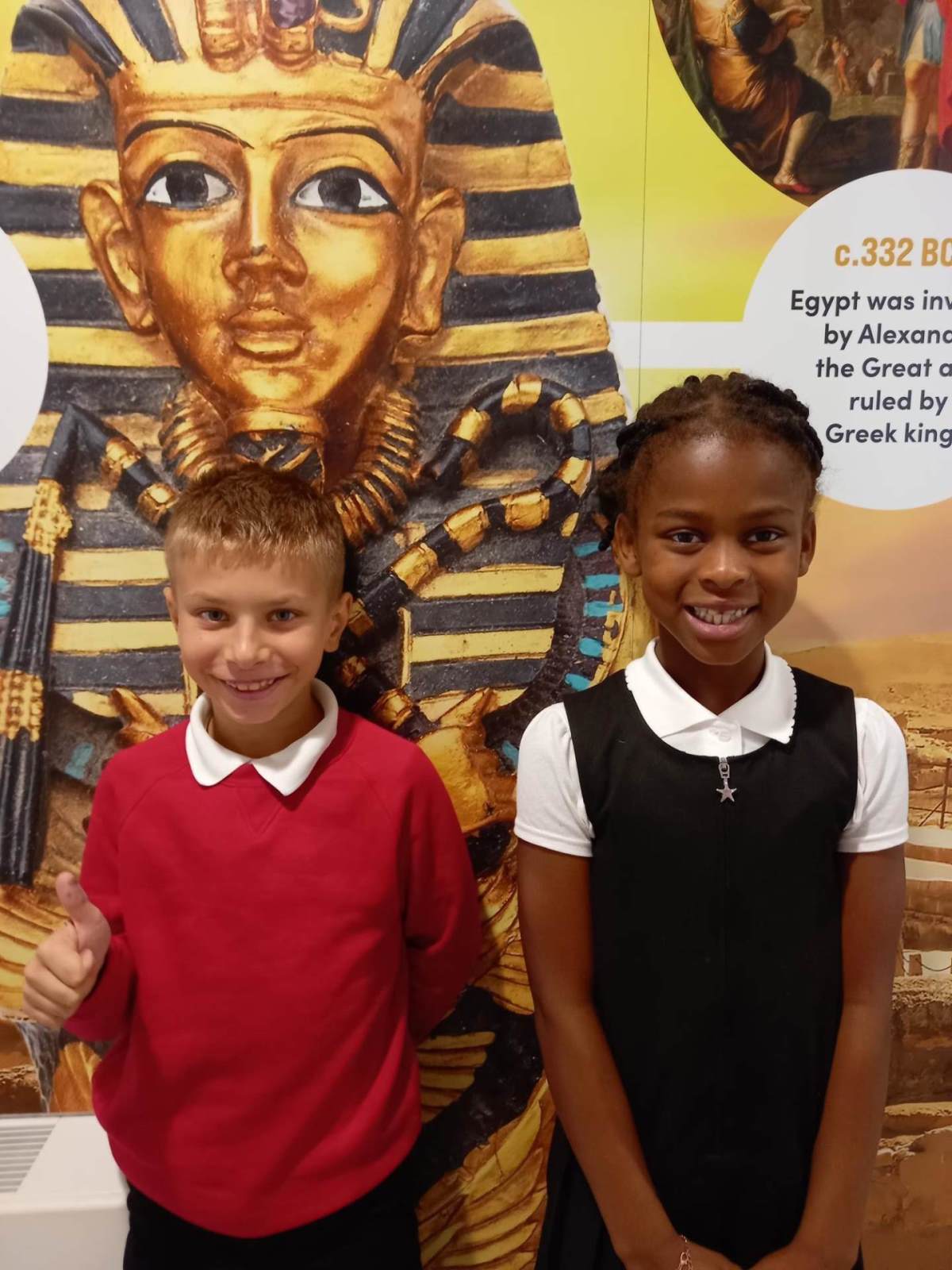 Week 3
Incredible Science!
Our Science topic this term is States of Matter. We had a fantastic time exploring gases and observing what happens to a balloon that is attached to a bottle filled with baking soda and vinegar.
Week 4
During indoor P.E we have been learning about bridges using apparatus, individual and partner work.
Week 5
In Maths we have been exploring addition methods. Today we looked at using counters to show addition using a place value chart. This helps us when we use column method. We have also been using bar models.


Malorie Blackman
At the end of the day, we have been reading 'A Dangerous Game' by Malorie Blackman. Malorie Blackman is a black, British author who has written over 60 childrens books.
'I have enjoyed the interesting, fun adventures. It sometimes gets scary, but it is cool and fun.' Tashayla
Week 6
Year 4 have enjoyed exploring pattern making and most recently created their own nature collages, patterns and tile prints. They have been inspired by artist Dana Awartani.
Scientist of the term!


Week 7
To celebrate Black History Month, we enjoyed listening to a variety of black artists and musicians from different musical genres such as: Ella Fitzgerald, Louis Armstrong and Stevie Wonder. We were amazed by the sound of Sheku Kanneh - Mason, a contemporary black British cellist. Listen here:
Autumn 2
Week 1
In Dance, we are learning about Cats and how to show expression and good movement.
/i/video/Year_4/FullSizeRender.mov

Week 2
UK Parliament Week
This week we have been learning about democracy and voting. As a class, we wrote letters to our local MP about issues in Barking and Dagenham.


Remembrance Day
Week 3
Diwali Celebrations
We learnt about the Diwali celebration and why it is celebrated. We made some Diwali cards and shared with other classes what we had learnt.
Children in Need
Week 4
World Children's day
On Monday afternoon, children in Exeter class took on the role of the teacher and helped to deliver lessons, take the register and be responsible in the classroom. We spent time thinking about our rights as children and got to know the convention of rights through games.

During Destination Reader this week, a group of children read a non-fiction book called Children at Work. They linked this to what they learnt on World Children's day and the rights of children.

Science
We have been exploring sound this term in Science and this week we were discovering how we can identify high pitch and low pitch on a glockenspiel.
Week 5
British Museum Trip
This week we visited the British Museum to help us learn more about the Ancient Egyptians. We saw many artefacts collected from Egyptian tombs, some Egyptian mummies and the Rosetta Stone. We got to see hieroglyphics up close and many burial items.
DT Shortbread biscuits
Week 6
Childnet Assembly
We had an interesting assembly about internet safety and learnt more about the importance of keeping safe online.


Enterprise Week
This week has been a busy week for the school. Each class has been taking part in Enterprise Week. We have been designing and creating products to sell at the Winter Fair. We learnt about budgets, sales and profits as well as branding, slogans amd advertising.
Take a look at our winter themed plant pots and some of our posters.
Knowledge Organisers
Curriculum information