Year 5 - Edinburgh
Intro to Edinburgh and Mr. Collyer
Welcome to Edinburgh. I started my teaching career here at ECS and it has been amazing so far! The staff are amazing, they really care about the children's education and this is shown in all lessons around the school. The work is celebrated every day which is fantastic as it allows children to become proud of their work and show it off to the whole school! My wish is to help all children no matter how big or small the challenge is. I don't want learning to feel like a chore, so everyday I try to make the lessons fun and entertaining. I am really passionate about teaching geography and sports. I have come from a competitive swimming background. This allowed me to go onto coach swimming for the future generations. I also still swim in my own spare time to keep healthy.
The Year 5 Curriculum.
In this section you can find everything that the children will be learning throughout the year.
What's happening in Edinburgh for Autumn 1?
Here you will be able to see the learning that takes place in our lessons. I hope you enjoy taking the time to observe what our lessons look like!
Week 1
PSHE
In our first week back, we looked at what is important for everyone while we are in school and what is expected of the teachers too. We created our own mini versions as well as a charter to show and remind everyone of the rights we all have in and outside of the classroom environment.
The children then created their own honeycomb designs on our schools values: Responsibility, Success, Resilience, Collaboration, Respect and Safety.
Week 2
P.E
In P.E we are learning about the sport of netball. In the clip below, you can see the children practicing their chest passes and hear some communication about how they should be passing the ball and catching it.
/i/video/IMG_4685_1_.mov
Computing
For our computing lessons the children have been creating code to use a micro:bit. With the micro:bit, the children created a picture of a heart. Have a look at the lovely picture that some of the children made.
Week 3
Science
In our science lesson this week, we focused on making levers. The lever we chose to follow was a catapult. When the catapult was made (using rubber bands and sticks) we then played around with the design to see if we could project a small rolled up piece of paper as far as possible. Have a look!
Week 4
Science
In science we are continuing to look at forces. This week we focused on the force of friction! Have a look at our attempts of sending toy cars down ramps that had different materials. We timed the attempts to see if there was any change in the time it took to get from the top to the bottom of the ramp.
/i/video/IMG_4262_1_.mov
Art
In art we have been looking at the artist Jean Pucelle who created illuminated letters and designs that went along the side of texts, they were used to brighten up the text and show pictures, sometimes of comedic value.
We first designed our chosen letter, before later using oil pastels to bring the letter to life! The calming music helped us focus in our activity to bring out the best designs.
/i/video/IMG_4242_1_.mov
Week 5
Assembly - Black History Month Assembly
Ms. George led an assembly for us during this week and discussed the famous author Malorie Blackman. She has created so many wonderful stories for us all to read. What books have you read that Malorie Blackman created?
Week 6
Handwriting
Early in the morning, every other day we practice our handwriting. To start us off and to wake up our muscles we do some quick, effective exercises to prepare us.
/i/video/IMG_4253_1_.mov
RE
As we continue to celebrate black history month, we have been looking at Bilal; the first black muezzin. Children wrote poems about Bilal's bravery and story mapped his life.
Week 7
Black history month celebrations
This week we have looked at celebrating some influencial musicians. We discussed musicians such as: Aretha Franklin, Ella Fitzgerald, Stormzy and Bob Marley. We also listened to some music by Aretha Franklin and Stevie Wonder.
PE
To celebrate the last few hours of the first half-term, Year 5 did their PE warm-up by doing Just Dance instead. We used a class favourite 'I want it that way' by Backstreet boys. Coach Josh even fancied joining in as well!
English
This week children typed up their own versions of a suspense story. To do this we went over to the secondary school site and used their computers. Children loved this and produced some amazing pieces. Take a look at this piece, below.
What's happening in Edinburgh for Autumn 2?
Week 1
English
In our English lesson this week we focused on explaining how Earth has day and night. For this we needed to research accurately to find out how this happens.
Week 2
Science
In our science lessons we have been learning about space and looking at our own solar system. We ordered the planets before researching their sizes in diameter. From this we created our own solar systems using fruits and vegetables!
Week 3
Cooking Workshop
This week we were lucky enough to be able to cook our very own paella!
We learnt about the safety of cooking as well as the health benefits of each ingredient being used.
Week 4
Week 5
No pens day
During this day, children were not allowed to use a single pen/pencil!
A crazy feeling when we usually are always using them.
The task in maths this week was to create an enlarged triangle that followed a pattern. The pattern had to be worked out by determining the amount of triangles and sticks being added to each new row.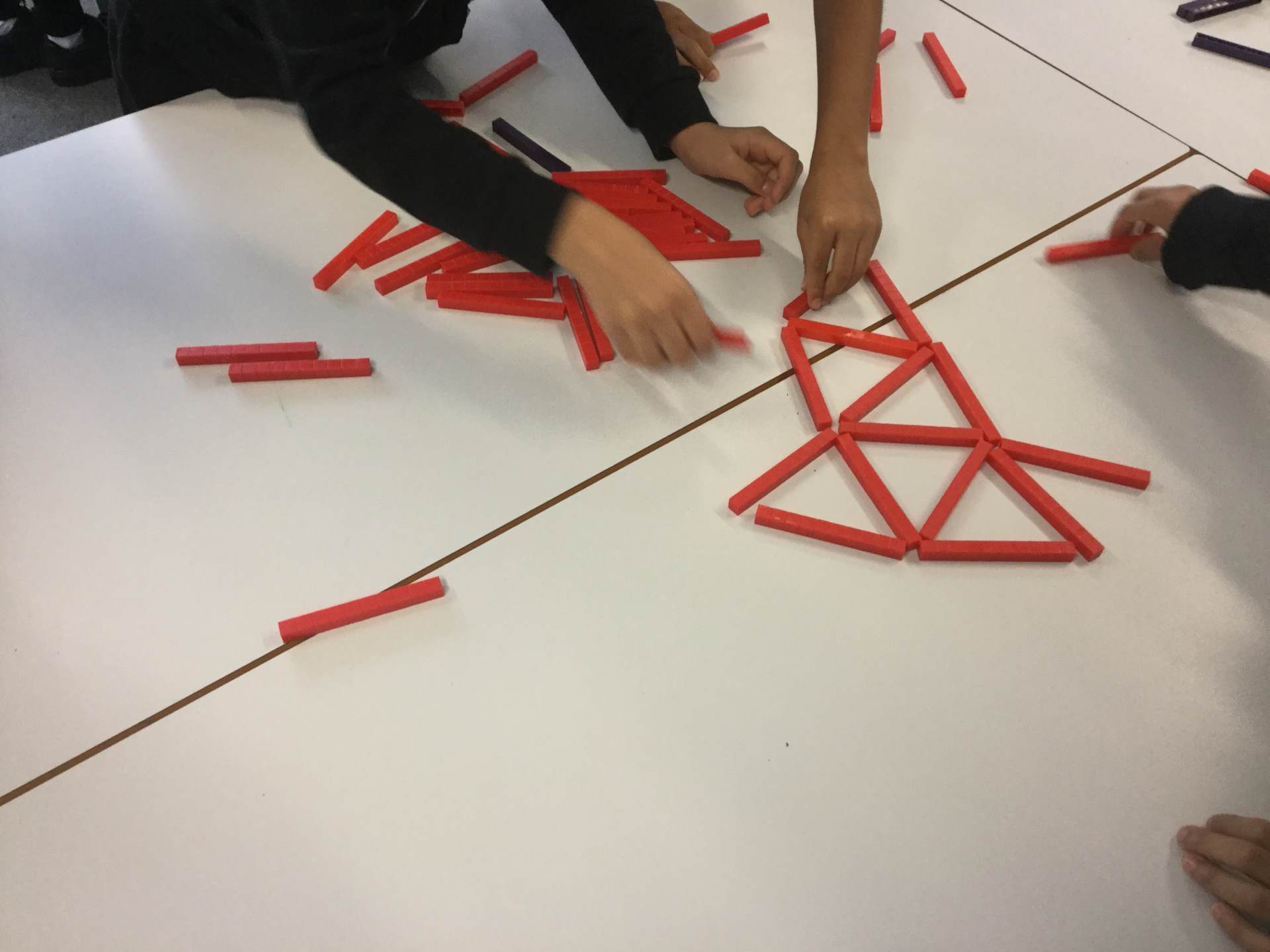 In history, instead of writing, we created our own version of the events that resulted in the Treaty of Versaille being signed to signal the end of World War One. It was a very interesting and heated debate!
Week 6
Enterprise week - Day 1
Day one of our enterprise week consisted of designing our product for the Enterprise fayre. Can you guess what it will be?
Enterprise Week - Day 2
Day two saw us talk about how we could advertise to the public about our stall at the fayre. We discussed how colours can create a feeling with the customer as well as creating a focus point in the advert. We also learnt that the font and style can entice people to buy the product. We practiced these skills in our books before having a go on our final design.
Week 7
Week 8