Year 5 - Edinburgh
//www.youtube.com/embed/eWh97L_Dd-4
Summer 2
Week 5 beginning 4/07/22
PE - Dance routines based on Ancient Greece.
Geography - We have been learning about the world's biomes.
Week 4 beginning 27/06/22
Music - Practising for the summer concert.
/i/video/Video__4_.mov
Week 3 beginning 20/6/22
PSHE - Role-playing different scenarios that show safe and unsafe secrets, to learn the difference between the two.
Week 2 beginning 13/06/22
Science Week! - We did different experiments each day and on Friday we dressed up as scientists and our families came into the school to see all of our experiments. Our experiments included volcanoes, exploding lunch bags, inflating a balloon using only vinegar and bicarbonate of soda just to name a few.
Summer 1
Week 6 beginning 23/05/22
English - Creating a readers' theatre with ideas for the ending of the Zelda Claw and the Rain Cat story.
Art - We have researched mosaics, planned a mosaic and now have made our own based on our favourite things!
Week 5 beginning 16/05/22
Art - We learnt about mixing primary colours and creating different tones of green for a landscape in a lesson in the Secondary school with a secondary school art teacher.
Week 4 beginning 9/5/22
Computing - Learning about collaboration on the internet by using the iPads to create a class Padlet.
Week 3 beginning 2/5/22
Science - Setting un an experiment to see whether dandelions can re-grow by propagation by taking cuttings from their roots.
Week 2 beginning 26/4/22
Maths - Using mirrors to help us learn about reflections of shapes and how to plot their co-ordinates.
Computing - Considering the pros and cons of different types of online communication.
Week 1 beginning 19/4/22
Computing - Using role play to learn about how networks work.
Science - Dissecting flowering plants and labelling the different parts of flowers.
Spring 2
Week beginning 28/02/22
World Book Day - We dressed up as different book characters to celebrate world book day and did lots of different activities throughout the day including: a reading cafe where we enjoyed snacks and shared our favourite books with our classmates, a livestream with different authors, Harry Potter sorting hat and quiz, designing character masks and book covers and a special world book day assembly.
Week beginning 21/02/22
PSHE - We learnt about different ways that resources are allocated and the effect that this has on individuals, communities and the environment. We then pretended that we had a budget of £100,000 for Barking and Dagenham and decided how the money should be spent in the borough.
Destination Reader - library visit
Spring 1
Learning Week 7/2/22
Art - We planned and created an art piece inspired by Marc Chagall. We considered texture, materials and key features of his dream-like artwork.
Music - Practising singing in groups.
/i/Primary/Edinburgh/Music_7_2.mov
Learning Week 17/1/22
Music - Proudly singing our school song in our class singing assembly.
/i/Primary/Edinburgh/Video__3_.mov
PBL - We dressed up as people from the Shang Dynasty.
English - We created a live/drama version of our mystery stories set on an abandoned road in the Australian outback.
Performing our T4W story map. We have been writing mystery stories and working on creating suspense in our writing.
/i/Primary/Edinburgh/Video__2_.mov
Science - We investigated the effect of the force air resistance by making plastic parachutes of different sizes and timing how long each one took to hit the ground.
Learning week 10/1/22
Art - Our artist of the term is Marc Chagall. In our first lesson we researched his life and art work and presented our findings on posters that are now being displayed in the classroom.
PSHE - In PSHE we learnt about plastic pollution in the oceans and made pledges about how we can reduce our own use of single-use plastic.
Maths - Times tables rock stars! We practice our times tables at home using TTRS and also have twice weekly sessions in class too.
Learning Week 3/1/22
PE - We had our first tag rugby lesson and we learnt the rules of the game.
Autumn 2
PE: This half term we have been learning hockey and we can now play matches in teams.
/i/video/Video_1.mov
Music: We have learnt how to play jingle bells on the clarinet.
/i/video/Video.mov
Maths: We are learning to read and interpret information on graphs in maths.
Edinburgh loved exploring new books in the school library.
Practicing our T4W text. Out topic is persuasive writing
//www.youtube.com/embed/2ht8PCtr920
Design and Technology
We are really proud of our finished jewellery pieces made from clay and wire.
Y5 Edinburgh - Design & Technology
Daily Mile
Every Thursday is Year 5s turn at the daily mile. We run, jog, walk and do circuit exercises before school.
//www.youtube.com/embed/S1mP3Yqoh88
In DR we are reading Malamander which is a fantasy novel.
English - we created our own adverts.
//www.youtube.com/embed/fcQFdnwHzPY
//www.youtube.com/embed/UtGAUhKgUO0
//www.youtube.com/embed/PQe_afiVcCU
//www.youtube.com/embed/Ezso77TppWw
//www.youtube.com/embed/0dF8tjrD30Q
Design and Technology
In DT we have designed our own product and made part of it out of clay. Next week we will be doing metal work to add to our product.
Y5 Edinburgh - Design & Technology
Children in Need
We raised money for Children in Need by donating to come into class in non-uniform. We also enjoyed a special Children in Need assembly in the secondary school hall. Lots of us bought treats at the after school tuck-shop to help raise money too.
World War 1 Remembrance Day
We created a piece of art as a class for World War 1 remembrance day.
Solar Systems
We learnt about the solar system and represented the size of the different planets and the distance between then with fruit.
UK Parliament
For UK parliament week we debated in the style of the MPs in the House of Commons and members of the House of Lords. The debate topic we chose was tackling child poverty.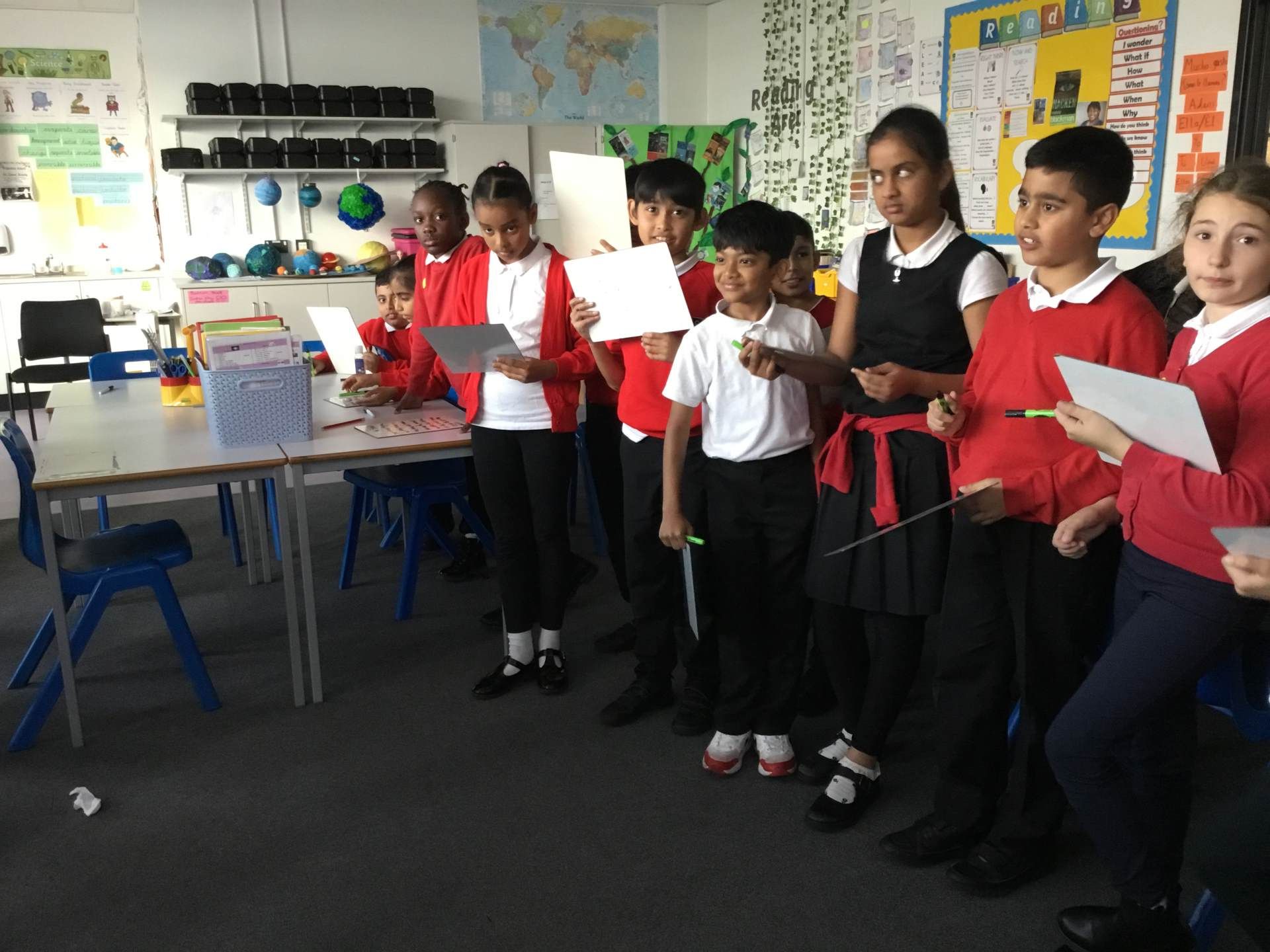 Diwali Party
During our Diwali party, we learnt a Diwali style dance, did Diwali themed colouring in, word searches and cross-words and ate lots of yummy food.
Y5 Edinburgh - Diwali Party
English
Our new English topic is explanation texts. This week we are writing about how a bike works and for our first lesson we labelled the different parts of a bike and their functions.
Science
Our new Science topic is Earth and Space. Over the half term holidays, we made our own 3D models of the planets in our solar system.
Autumn 1
Learning Week - 18 October 2021
PSHE
In PSHE we learnt about how to deal with conflict respectfully. Then we practiced this through roleplays.
//www.youtube.com/embed/9bSK_TyONig
DEAR - Drop everything and read for 15 minutes
Y5 Edinburgh - DEAR
Music
//www.youtube.com/embed/onR98EoEI4c
Learning Week - 11 October 2021
PE
In Year 5 we are learning to play basketball. Here's us practicing our dribbling skills. We also know how to chest pass, bounce pass, and are learning about attacking and defending in mini matches.
//www.youtube.com/embed/9HLoGxJpdWg
Spanish
Spanish lessons. So far we have learnt how to introduce ourselves in Spanish, pronouns, and much more.
//www.youtube.com/embed/xPu6VCw-EHE
Art
Our art topic for this term is illuminated letters. Here's us using calligraphy ink on our designs.
Science
//www.youtube.com/embed/B2TF5E47CkA
Learning Week - 4 October 2021
This week in computing, Edinburgh have been continuing to learn about staying safe online and putting their knowledge to the test with an interactive game. In the game, they answered questions about how to stay safe, such as who they should share passwords with, awareness that some people pretend to be other people online and to not talk to strangers, what to do if they experience cyber bullying, what to do if someone asks for their or their parents personal information online, and much more.
Y5 Edinburgh - Computing
During PBL, Year 5 continued their learning about World War 1. They explored what live was like for the people in Britain during this time. They learnt about children who helped grow food at home due to food shortages, the Boy Scouts doing farm work and the Girl Guides knitting socks and scarves to send to the British soldiers, and raised money to help parts of the war. Then, they used their knowledge to debate whether or not the government should have used children this way in the war effort.
Y5 Edinburgh - PBL WW1
//www.youtube.com/embed/vMYS4p-mwb8
Learning Week - 13 September 2021
Learning about Instructions
Edinburgh class have been learning about instructions.
//www.youtube.com/embed/d9XMvzm_0b8
Life on the Front Line - WW1
Year 5 are learning about WW1 and they are imagining what life would be like on the front line.
Learning Week 6 September 2021
During transition week, Edinburgh class learnt how to use a grid to draw a self-portrait accurately, thinking about face proportions, and how to mix watercolours to create different shades and tones. These are their finished results which are all brilliant and are now being proudly displayed in the corridor for the rest of the school to see!
In Writing, the class also had an opportunity to write a letter to their new class teacher, while in Art and PSHE they designed balloons with their hopes for the year on it, and created their class charter.
They enjoyed their first basketball lesson with their new PE coach and in Maths and Science they worked in groups to complete investigations.
School Council Rep
Meet Edinburgh's School Councillors
I'm looking forward to help children and think this will be good for me. Normally I just play with a friend but this will give me the chance to meet and help many children. I've only been in the school since year 3 but I know the school really well now so I know I can help lots.
Hi! I am school council for Edinburgh. I am looking forward to helping people and making their ideas come true. I am very happy to help
Letters & Communication
Curriculum